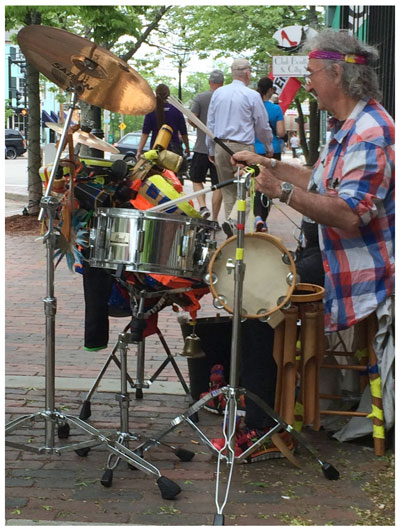 Russ Aharonian, Painter

Russ married Merrill Black on April 26, 2014!!!

NOW OPEN
NOVEMBER 4-DECEMBER 23, 2016
What Artists Look Like 2016
Discover Portsmouth Center

Russ has three entries in the Ogunquit Art Auction on August 1.
(Ancient Quarry & The Most Wonderful Time in Our Lives (Lot 2))
and (Sir Lancelot's Nut (Lot 4)).

Russ's new sculptural assemblage "Enduring Journey' on Sculptures page

Russ was featured in an article entitled "Muse of the Whimsical"
in May/June 2013 Yerevan Magazine


April 4-22, 2013, Karl Drerup Art Gallery,
Russ had an Exhibit at Plymouth State University


"Brimming with whimsy, his work is highly innovative with modern materials,drawing upon artist like Miro and Kandinsky for inspiration. His zany sense of humor will bring out a chuckle in the viewer while astonish all with his virtuosity."

- Exact Quote from the Gallery Catalog by Professor Terry Downs.


Russ w
as featured in an article by Jeanné McCartin in the Portsmouth Herald. Read about it here.


Russ's
p
aintings "The Pie Party
" and "Goddess and the Joker" are in the movie
"Being Flynn" authored by Nick Flynn and currently in release nationwide,
with starring Robert DeNiro and Julianne Moore.


Watch for Russ's
artwork at the New Hampshire Art Association's Levy Art Gallery
.
State Street, Portsmouth, NH



Russ's work is on exhibit at

The Barn Gallery and the
Ogunquit Art Gallery
in Ogunquit, ME.

Here's a view of the past show from Doo Salon here.
Here's a review of the show in the Portsmouth Herald's Spotlight written by Ann Bryant
Watch Russ's video
from Crazy and Wonderful:
Click here
Watch Russ's video
as he talks
about his art:
Click here
Watch Russ's video
on his show
at Ogunquit
Art Association

:


Click here


Watch Russ's video
as he talks
about his art:
Click here
Russ's working in his
st

udio in 1970 in the Button Factory and his exhibit at the Art Institute of Boston

:


Click here
Watch Russ playing his drums in Market Square

Read about Russ's last show in May 2007, visit Portsmouth Herald Spotlight.

Russell Aharonian's art is a form inspired over a 30-year period -- originally by the masters Bosch, Breughel and Van Eyck, as were other surrealists -- and by the brilliant language of the abstract-expressionists -- but mostly by life itself: the passions, the sensations, the mysteries, and the humor of the human condition.

Russ works with the spontaneity of digital graphics, the sensuality of oil and acrylic painting and the simplicity of sculpture... and weaves his colorful imprint into biomorphic expressions. Russ is available for abstract family and individual portraits. He also creates artwork for motorcycles and helmets.