WHAT WORKS BY RUSSELL AHARONIAN
By Ann Bryant
December 06, 2007 2:00 AM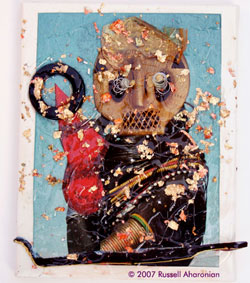 Russell Aharonian's resume is long. Actually, it's pretty much an arduous read. Show after show in this area, solo and otherwise, prove that he's been a part of this community for a long time. His last show was the Teeny Tiny Art Show at Three Graces.

The other day he wrote me a note that he'd hung a new show. I figured I'd stop in and see what was up.

His pieces, hanging now at Dos Amigos, are enigmatic and energetic.

Some are the stuff of bad dreams while others are gestural dances; newly coagulated jumbles of gold leaf, string, screws, plastic bits and, as it seems, pretty much anything else he could get his hands on.

Details sometimes weigh heavier than overall effects, and you could find yourself either steeped in the momentary simplicity of recognizing a familiar found object like fishing line. I didn't often find that the finished products of these pieces were as satisfying as delving into what they were made of- following that fishing wire around its twists and discovering what was making it hold its shape led my eyes over the entirety of compositions.

They are odd and they are loud. They do emit an energy.

I'd say my favorite was "Blue," a small piece that was in itself a newly hewn object of desire. It was this precious thing, like a little machine or oddity. A gem.

"Madagascar" was another great collage. Eyes spring out toward you from the rough surface busy with gold leaf and detail from a collage underneath a shiny laquered finish. The face, with a mask, is haunting and the image, assembled oddly in this way, is foreign and disarming though somehow proud. What a great piece.

If you ask me, the challenge of collage and assemblage is making something new. The process of collecting beads, shiny things, and metal bits and then somehow arranging them into something that speaks to a broad audience is a tricky thing. Aharonian knows how to yelp, guffaw, gasp and laugh.